A new line of Green Fabric products
Fabrics obtained from recycled raw material
PUGI RG is constantly searching for innovative materials with an eye to both the future and sustainability.
The effort behind the development of new fabrics follows the needs of the market, as well as design and functionality requirements, while striving to keep these all connected to each other.
Just as there is no single design solution that can fit all circumstances, in the same way, there is no such thing as a universal sustainability solution.
This is the reason why each product conveys different aspects of our increasing eco-conscious approach.
Our global approach, which ranges from the use of raw materials up to our production methods, is aimed at promoting long-term environmental durability.
Fabrics from PET - recycled bottles
A sustainable fabric
Our furnishing fabrics belonging to the Green Fabric line are mostly made from yarn obtained from recycled PET bottles. The bottles are collected, sorted by type and colour. Then they are processed and shred into flakes.
The polymer is finally extruded to form the yarn, which is then textured and treated so as to convey permanent flame retardant properties.
The "hand feel" of the fabric guarantees the utmost performance.
Certified quality
Made from post-consumer PET bottles, our recycled Flame Retardant polyester yarn turns the plastic waste problem into a resource.
Green Fabric fabrics are all Global Recycle Standard GRS certifiable, this means that they have been made with recycled materials, in compliance with environmental and social criteria extended to all stages of the production chain.
Furthermore, all of our recycled upholstery fabrics are STANDARD 100 certified by OEKO-TEX ®, with the guarantee of having no negative impact on human health and the environment.
The Convert family
Designed to work in harmony and complement each other, this range of coordinated fabrics respect the purity and simplicity of the faux-uni design, not to mention the non-directionality of the texture. These fabrics are also incredibly easy to combine with each other and perfectly integrate into many interior design projects.
Convert
Plain weave fabric, piece-dyed, with a comfort stretch effect, 100% PL from recycled PET.
Convert 2000
Plain weave fabric, piece-dyed, with a comfort stretch effect, 100% from recycled PET.
Convert stretch
Plain weave fabric, piece-dyed, with a comfort stretch effect, obtained from recycled PET.
Convert melange 4000
Piece-dyed, soft cloth with no direction, obtained from recycled PET.
We complete our Green Fabric line with:
Convert D7000
Piece dyed , mélange knitted fabric  with a a three-dimensional look
The Habitat family
Habitat
Habitat is a classic Crepe fabric made with  recycled and recyclable synthetic polyester fiber with a sustainable ecological impact.
The Trevira CS eco family
Fabrics from recycled wool
A sustainable fabric
Our sustainable recycled wool furnishing fabrics were made with the idea of exploiting the peculiarity of the Prato district in regenerating wool fabrics at 360°.
We do this by recreating high-performance yarns as if they were produced with virgin materials, then with a finishing cycle capable of giving softness, breathability, resistance to wear, UV rays, capable of passing various fire resistance tests thanks to the intrinsic fire retardant characteristic of wool.
The use of GRS Certified recycled wool materials makes it possible to drastically reduce the use of virgin wool, dyes and energy.
In the Jungla™ fabric, for example, 50% of the material is high-end recycled, coming both from "pre-consumer" fabrics, i.e. processing residues from the Prato district at km.0, and from used clothing fabrics
Heritage Collection, fabrics that come from the past to give new life.
To create a collection of innovative fabrics with a sustainable impact, we were inspired by our products from the past. The "Jungla carpet" Winner of the Compasso d'Oro New York edition in 1956, and the hand-knotted "Bisentium carpet" Smyrne Type.
These innovative fabrics have a reduced environmental impact compared to equivalent fabrics in virgin materials.
Energy saving
Saving water
Saving of raw materials
Reduction of materials in landfill
The high-end performance is measured and guaranteed through laboratory tests, which certify the absence of harmful substances prohibited by international regulations, fire behavior class 1 IM ,EN 1021 1&2 , crib 5 with treatment, cal 117 , IMO upholstered .
The production process
Wool garments destined for recycling are carefully selected. The next phase is that of sorting by color and fineness of the materials. Labels, linings, buttons and zip locks are then removed (the only materials that go to the landfill). Buttons are recycled, covers, labels and other non-reusable textile parts are dry-frayed and reused for the production of, for example, noise reduction felts.
The rags divided by color and fineness are pressed into bales and sent to companies specializing in washing and fraying, until the material can be used again in spinning where these materials are mixed with virgin fibers dyed in the color to match the recycled material, to achieve the wonderful and inimitable melange tones of the regenerated carded articles, the soft hand and the elegant and unmistakable appearance complete the characteristics of these products that are just waiting to be reused again to make upholstered furniture, sound-absorbing panels, sofas, armchairs, headboards and more.
All our collaborating companies in the area are GRS Certified and thanks to this we start from GRS Certified yarns to make our recycled wool blend fabrics such as JUNGLA™.
Fabrics from recycled compostable raw material
Biodegradation
Biodegradation is a process in which the molecular structure of materials is broken down through metabolic or enzymatic processes.
The decomposition process takes place through enzymes secreted by microorganisms, naturally present in anaerobic (without oxygen) and aerobic (with oxygen) environments that work alone or in colonies and play a fundamental role in our ecosystem, and not only in the biodegradation process.
Biomass (humus) and biogas (carbon dioxide and methane) are the products generated in a biodegradation process. While the initial biodegradation in nature is aerobic, the major bioreaction in landfills is anaerobic. Landfill microbes break down organic matter and reduce its volume or mass. The polymer that makes up the BIO fabric comes from recycled PET and is modified by a mixture of organic compounds that do not interfere with the properties of the final product, whether they are textured yarns, solution-dyed or cone-dyed colors, as well as storage and use in textile processes in general.
Anaerobic biodegradation
For anaerobic biodegradation, the ASTM D5511 test method, equivalent to ISO DIS15985 (International Standards), is widely used to determine biodegradation under conditions of high solids content. It determines the degree of biodegradation of plastic materials and is representative of the conditions of biologically active landfills.
The ASTM D5511 analysis method under which the fabric BIO was analyzed showed that the fabric BIO  IS anaerobically biodegradable. During the standard test evaluation, there was a significant biodegradation of the samples of the fabric , while the normal polyester counter test remained unchanged. Polyester is estimated to take about 300 years to decompose in the environment. BIO fabric  dramatically reduce the decomposition period to an estimated time of 3 to 5 years.
Bio
Recycled, recyclable, compostable polyester, therefore able to degrade in optimum temperature and substrate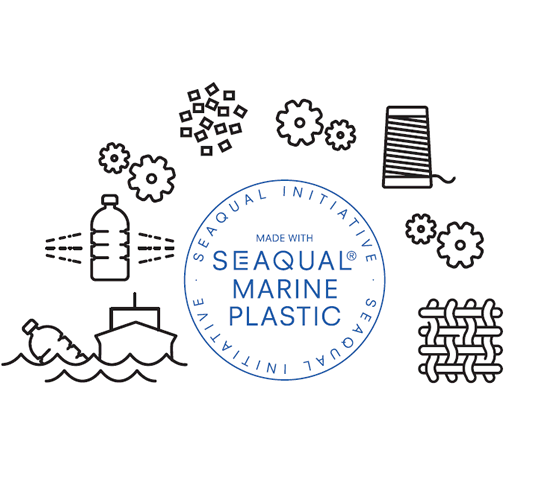 SEAQUAL® certified manufactures
SEAQUAL® INITIATIVE is a community with one voice against plastic pollution. It brings together individuals, organizations and companies to help clean up our oceans, raise awareness of the marine plastics problem and highlight  the heroes who are working to solve it.
Pugi RG is proudly part of this project and enters the field with the production of the Poseidon fabric.
The processing cycle
Marine plastic waste, recovered from our beaches or directly in the oceans, is collected and divided into different types of material. The plastic portions are cleaned and transformed into SEAQUAL® MARINE PLASTIC at SEAQUAL® INITIATIVE approved facilities and then supplied to the industry to be transformed into a special yarn, the SEAQUAL® YARN, a polyester fiber that contains recycled plastic from the oceans.
With this special yarn we produce our Poseidon fabric
The Seaqual® family
Poseidon
The Poseidon is a unique creation, made with care and attention to environmental sustainability. Its composition is made up of plastic fibers recycled from the sea, which give it a material and natural appearance, while its non-directional bouclé texture makes it one-of-a kind item.
Ecological footprint
A report from the Waste and Resources Action Program (WRAP) estimated that manufacturing recycled polyester requires 59% less energy than virgin polyester and reduces CO2 emissions by 32%.
To produce a kilo of fabric with recycled wool, an estimated saving of 500 liters of water, a lower emission of CO2 into the environment, and an energy saving of 80 kW/h are estimated.
The use of recycled materials in the production of furnishing fabrics also helps to reduce the extraction and dependence on petroleum as a source of raw material.
Flame Retardant
Choosing to use a sustainable, recycled raw material has in no way lowered the standards and specifications for textile flammability.
All major international tests have been passed brilliantly.
The fabrics belonging to our Flame Retardant from Recycled PET line also exceed the IMO MED standards, thus ensuring the maximum safety when they are used on board vessels and cruise ships.