Printed fabrics to add value to contemporary contract interiors
We offer architects and designers solutions of customized printed fabrics, with digital printing for coverings, curtains, furnishing accessories or sound-absorbing walls.
Targeted solutions that offer both aesthetic and comfort advantages using our fabrics as a base with a wide range of technological certifications of fire resistance, acoustics, environmental and much more…
Our Personal print system can satisfy an imaginative, practical need or both.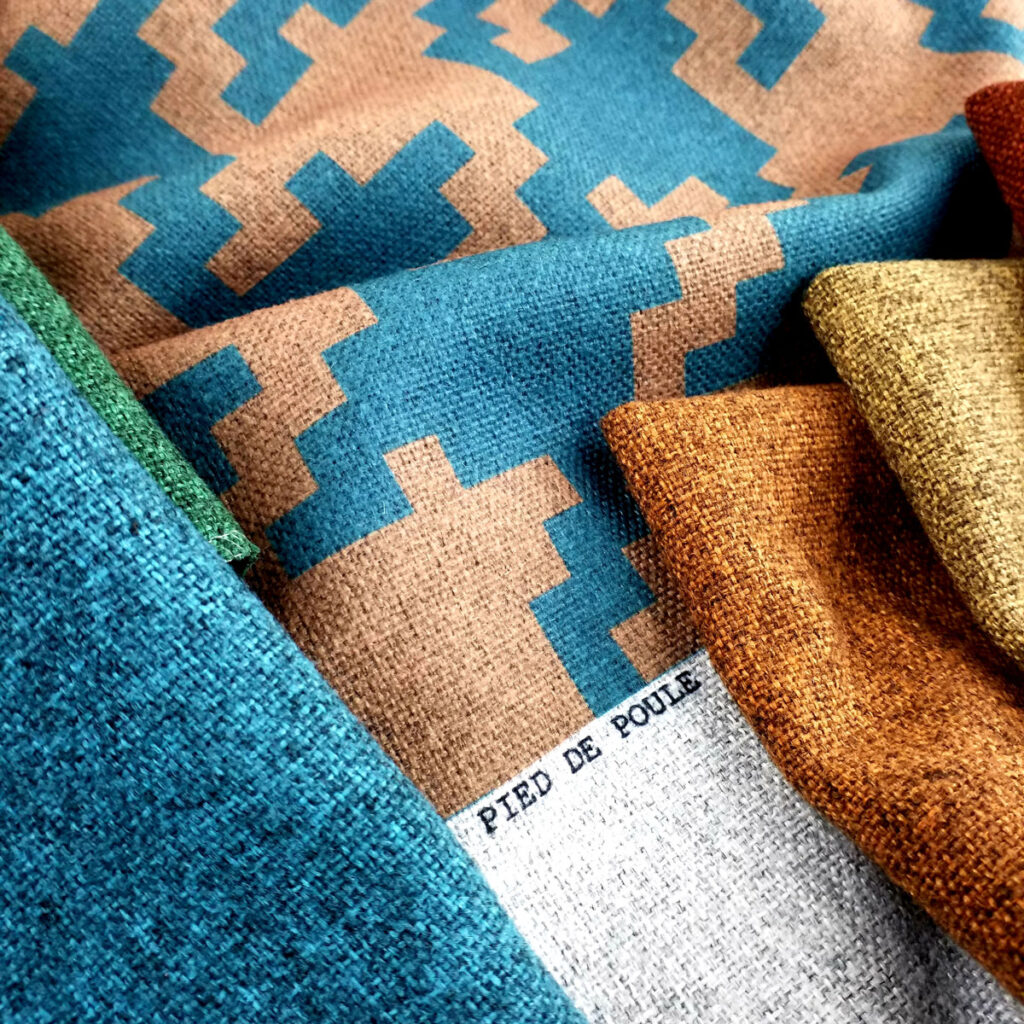 The print adds character and individuality to the interior, telling a unique story
It can reproduce the brand image in interior architecture, determine the atmosphere of an entire space and give it a unique character.
Printing can be done on both our white and colored fabrics, in a height of 140 cm up to over 300 cm.
Double-width printing is particularly used for curtain and semi-darkening (DIMOUT) and BLACKOUT fabrics, adapting to any look and atmosphere.
Any image architects and designers want to use for their creative concept – realistic or abstract, of a pattern or material, or even text-based – our design office can translate it into a custom printed fabric of perfect size and quality.
Fantasy and Creativity
Any type of image is suitable for the Personal Print system!
Be as creative as you want because any image is possible. Whatever architects and designers want to use to adapt it to their creative concept, the design office of Pugi RG will make images achievable on print, achieving effects of surprising depth and sharpness.
The images will thus take on three-dimensional space and life.
By receiving images in JPEG, TIFF, PDF, EPS format, Pantone or Ral color references, the results will be of great quality, in some cases not looking like printed fabrics!
The experience in the production of fabrics combined with the best printing techniques
Our Textile supports
It is important to match the right textile support to the image to be printed, the right choice has a huge impact on the final result: some supports can add more depth and softness to the surface, creating more pleasant and dynamic interiors.
This is why we have a wide selection of textile supports that originate from our sample fabrics to form the basis for the world of digital prints.
We can start from a raw or dyed background suitably prepared for printing, in the case of pre-dyed or melange backgrounds the result will be pleasantly influenced by the color chosen, giving further particularity to the finished fabric.
The Pugi RG sample book provides a wide choice of substrates such as false plain fabrics, chenille, velvets, jacquards, microfibres, melange effects.
Whatever we do at Pugi RG, the fabric used comes first. Our intent is to combine materials with digitally printed images to develop something truly unique.
The choice of colors intensifies the appearance of the structures, producing more depth and dynamism.
Excellent materials and performance
All of our printable fabrics are made from top quality, high performance materials. Most of the supports are made of 100% Trevira CS or Trevira CS eco (recycled) polyester inherently flame retardant.
CONVERT Family fabrics in recycled PL FR are also very versatile as print media.
The advantages of printed fabrics are truly manifold, excellent solutions with an attractive but incredibly durable appearance to meet the rigorous standards of the international contract market.
These different structured digitally printed surfaces are suitable for a multitude of applications and atmospheres, and in the case of the 300 cm high rolls can be used seamlessly.
Flame retardant and with lightfast colors. Easy to sew to pack and with easy maintenance, the printed fabric is the ideal solution for environments that require extra protection against stains and intensive cleaning.