Fabric POSEIDON
We have started the production of  'Poseidon', an innovative and sustainable synthetic fabric, made with recycled plastic recovered directly from the sea.
Poseidon reduces the environment impact, contributing to the reduction of plastic waste in our oceans and guaranteeing a second life to the materials that would otherwise be destinated to remain and pollute our planet.
Our Know-how and our experience have allowed us to produce a high quality, resistant and versatile synthetic recycled fabric, suitable for multiple applications, from furniture to contract, from accessories to coverings.
We are committed to promoting the circular economy and developing sustainable solutions for the future by joining the SEAQUAL®. initiative.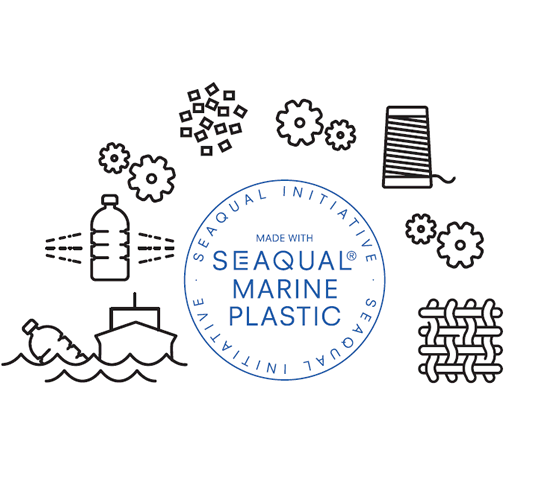 SEAQUAL® certified manufactures
SEAQUAL® INITIATIVE is a community with one voice against plastic pollution. It brings together individuals, organizations and companies to help clean up our oceans, raise awareness of the marine plastics problem and highlight  the heroes who are working to solve it.
Pugi RG is proudly part of this project and enters the field with the production of the Poseidon fabric.
The processing cycle
Marine plastic waste, recovered from our beaches or directly in the oceans, is collected and divided into different types of material. The plastic portions are cleaned and transformed into SEAQUAL® MARINE PLASTIC at SEAQUAL® INITIATIVE approved facilities and then supplied to the industry to be transformed into a special yarn, the SEAQUAL® YARN, a polyester fiber that contains recycled plastic from the oceans.
With this special yarn we produce our Poseidon fabric
Poseidon
The Poseidon is a unique creation, made with care and attention to environmental sustainability. Its composition is made up of plastic fibers recycled from the sea, which give it a material and natural appearance, while its non-directional bouclé texture makes it one-of-a kind item.
The softness of the fabric is evident and makes it pleasant to the touch. Thanks to the bi-elastic stretch comfort effect, it adapts easily to rounded models, guaranteeing an excellent wearability. This feature makes the fabric ideal for covering comfortable furnishings with soft shapes and a contemporary design.
The fabric is available in a range of natural and bright pastel colors, reflecting the beauty and variety of the nature. The warm and enveloping tones of the pastel colors blend perfectly with the more lively and bright shades, creating a wide range of possibilities for every type of style and personal taste.
The resistance of the fabric to abrasion, pilling, light and rubbing is excellent, guarantee a long life and an always impeccable appearance. The Poseidon will be able to maintain its beauty and functionality over time.